rock midgets home -> features -> interviews
SHAPED BY FATE: The Unbeliever - Part One
In the first part of our interview, Ruth Midget looks at the first six months in the development of the band's debut album between the band's first and second line-up changes
Photo by Ruth Midget
Almost two years ago, lauded British metalcore bruisers Shaped By Fate began gearing up to the release of what would be their debut album. The band – then comprising vocalist Ben Duffin-Jones, drummer Owen Weeks, guitarists Richey Beckett and Luke Grahame, and bassist Luke Jenkins – had built a reputation on the British underground circuit that was second to none, thanks to a series of punishing demos and razor-sharp live shows, as well as their split EP with the renown Johnny Mental.
However, by the time the band finally left the studio, they had undergone two line-up changes, frantic last minute writing, and one of the most intensive recording periods a debut has ever been produced in. With exclusive interview material taken before and after the album recording sessions, including words from drummer Jay Thurley and vocalist Paul Fortescue, Ruth Midget explores the creation of next month's debut album from Shaped By Fate, The Unbeliever...
* * * * *
CLICK HERE to read Part Two of this interview.
* * * * *
In late 2005, Cardiff-based hardcore band Shaped By Fate were preparing for their biggest set of dates to, well, date. Currently unsigned (in the UK at least), the band had spent several years gigging around the British Isles, gaining a reputation for tight as hell metalcore with lyrics beyond the usual bad dates/bad scenes spiel; as well as, thanks to charismatic yet confrontational frontman Ben Duffin-Jones, gigs where it's impossible to just hang back drinking (though this may be more due to his taste for throwing kickboxing moves into his performance than anything else).
At the start of 2006, they're due to cover 12 countries in three weeks in their first ever European tour. The release of their new EP The Brightest Lights Cast The Darkest Shadows on German label Beniihana is quickly gathering praise from the European metal press. The band are even starting to think about an album, and In At The Deep End records have been showing an interest for a while. After several years slogging around the toilet circuit, it seems they'll finally get the chance to bring their own brand of Botch-esque 'core to the wider masses. Things are looking up.
There's just one problem.
Powerhouse drummer Owen Weeks is in the middle of the later stages of his medical degree. He's always had two ambitions; firstly, to play drums in a great band, and secondly to become a surgeon. However, as time has gone on, it seems these two dreams are becoming mutually exclusive. The workload for his degree piling on, Owen finds himself under increasing pressure to devote more and more time to his studies – unfortunately, this comes just as things seem to be going up a gear with the Shaped By Fate. Torn between the band he loves and his medical career, Owen finally faces up to the fact that at some point he's going to have to make a decision between the two.
So begins twelve months in the difficult labour of Shaped By Fate's debut album; a period that will see the band undergo not once but two line-up changes, an exhaustive search for new members, some difficult life choices for them, and recording sessions so arduous, there was blood and vomit on the recording studio floor. This is the story of The Unbeliever.
* * * * *
April 2006. York, Northern England, and the quiet of a car park in the backstreets is broken by the explosive laughter of five drunk guys crammed into a minibus. Tonight, Shaped By Fate are due to take the stage at Certificate 18, home to possibly the country's smallest stage, on the first dates since Owen Weeks' departure last December, and the subsequent cancellation of the European tour. "Owen's departure was kind of badly-timed last time," admits guitarist Luke Grahame. "At the end of it, it was his decision, he came forward, he just couldn't do it anymore. Much as it pained him to the depths of his soul," he says, dramatically.
"And the darkness of his ring," adds Duffin-Jones.
"He's still coming to our shows, grabbing the mic, singing along, pulling silly dance moves..."
"He's still Owen Shaped By Fate."
"He's always going to be one of the boys."
"His gut's always going to be one of the boys."
Weeks' replacement is one Jay Thurley, a Swindonite of somewhat more slight build than his predecessor, but no less capable of sonically reigning in his charges when it comes to it.
"Owen's not only a wicked drummer, but he's a legend as well, and it's quite a hard seat to fill," considers Jay.
"A f**king big seat to fill!" laughs Duffin-Jones. "We've got him on the weight gain. He's doing a fine job."
Tour cancellations aside, the line-up change has far from slowed them down. At the end of February, independent UK hardcore label In At The Deep End had announced that they had signed Shaped By Fate to their roster, in the company of the likes of celebrated zombie-core group Send More Paramedics, and (now defunct) Beecher. Beckett's ability to quietly charm the industry had paid off. "To be honest they just had everything going for them," opines Grahame. "You see all these labels come and go, and everyone puts out a couple of good records, etc, but In At The Deep End have been plugging away at this for six years - which is not a whole lot longer than we have - so therefore we've naturally got a bit of respect for that, for them sticking with it. Mark's a great guy, he does the job extremely professionally. So they had everything we wanted."
So you're working on the new album now. What kind of stage are we talking about? Writing stage?
"About two thirds of the way through," Grahame guestimates.
"We came to the realisation that people were just offering us shows and every weekend, when we should have been writing, we were away playing shows," explains the band's other six-stringer Richey Beckett. "So it's just become a stupidly slow process."
"We were playing like three or four shows every week, and half those shows were on our practise times, and..."
"When you're playing shows, you're not writing songs," finishes bassist Lee Jenkins.
Ben, Owen dropped out because he made the choice between becoming a surgeon and the band. You're doing a medical degree as well, which beggars the question that since you guys are knuckling down now, if it ever came to the choice...
"Well, it is the big question innit," Duffin-Jones answers, suddenly a lot more sober, "but I've got a lot of options open to me at the moment. The lucky thing for me, and no offence to Owen, is that I find medicine a lot easier than he did. He has to sit down and work his arse off, whereas I can just come on tour for a week, read a couple of books, and I'm fine. And secondly, as well, much as the boys don't like it, I am a singer, ultimately so at the end of the day, if I've got exams or things like that, I can go away and do that. So really, as far as the undergraduate side of it's concerned, it's really not that much of a problem for me.
"I've spoken to the medical school and stuff like that," he continues, "and said to them what my position is. I'm probably going to be looking to take some time off, when I eventually get my doctorate - then I'm going to be Doctor Duffin-Jones and they can't really ever take that away from me, no matter what they do... In summary," Ben concludes, "Medicine's fine. I'll have that finished in like a year's time, and then I can get on with being in a band for a while and just enjoying myself."
"And then when that goes tits up, you can be a doctor."
"Exactly. And then I'll be rich."
"That's only when we die in a plane crash from going to a party with AC/DC, though," reminds Thurley. "In Jamaica."
"Well, I'll be alright then."
"That's tomorrow."
Between now and their rockstar deaths, Shaped By Fate are due to tour with Aussie hardcore troop Parkway Drive a few weeks later, and then what few Summer performances planned after that will be crowned by a slot at the inaugural Collision Course Festival, an English/Welsh love-in taking place at two venues across the border. Ben's studies have been meticulously planned around by the entire band to ensure everyone has enough time for writing. However, as the band will learn, some things you can't always plan for, and that includes your own feelings.
* * * * *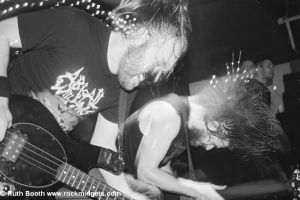 Photo by Ruth Booth
CLICK HERE to read Part Two of this interview.
---
Shaped By Fate
's new album
The Unbeliever
is due out this Spring on
In At The Deep End
recordings.
Further links
Home of the Welsh Metalcore band
Official site of In At The Deep End Records, home to Beecher, NCF, Send More Paramedics, and more...