rock midgets home -> live -> live reviews
04 May 2004
–
Funeral For A Friend
Middlesborough Town Hall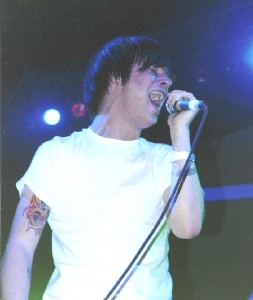 Matt from Funeral For A Friend - guess who uses Daz automatic? – photo by Ruth Midget
Middlesborough isn't the first choice of a a gig-goer in search of a night's entertainment; and that's even if you are local. Yet the lure of tonight's line-up proves too much from those as far away as Newcastle; an impressive clutch of bands for FFAF's last dates before the festivals sees the band conclude their last tour before 2005.
onelinedrawing are magic. Not the cold, calculating pseudo-psychology of Derron Brown, or the too cool to enunciate TV trickery of David Blaine. Pure, unadulterated white magic; the power to bewitch a room full of bored scene kids and win them over in the space of just half an hour. Workaholic Jonah Matranga's solo project (well, almost solo) is an excercise in what one person can truly convey from his soul. There's frustrated maniacal joy ('We Had A Deal'), soft, screaming, pain and fear (a cover of former band New End Original's 'Hostage'); but everything is fused with the power of that voice. A voice that's not afraid to crack and break, to whisper, or to scream, or to drift as the song takes it through a battlefield of emotion. Halfway through 'Your Letter', strains of the lyrics to 'Fake Plastic Trees' creep in to the tune, skewing the words to a different tune, infusing them with a new meaning. It's a trick he tries again later with a beautiful cover of 'Be Quiet And Drive (Far Away)', a soft keening voice drifting over haunting guitar echoes. With all these reference points, it's as if he doesn't even realise that he himself is a reference point for a whole sub-scene who absorbed Far in their youth. Jonah will later join FFAF onstage as they cover 'This System' by Far; but until then, this feels less like a live gig, than a communal singalong, Jonah taking on requests from the crowd to complete the set; less from a need to fill up the time, but from a genuine wish to share. Jonah even invites people to hang around after the show so he can play one guy his request. It's truly bewitching.
Million Dead, in the meantime, are here to up the frequency of waves in the moshpit. Possibly the only band able to get a crowd into a frenzy by singing about socio-sexual hierarcies, the band haven't suffered from their near constant touring since debut 'A Song To Ruin'. Well, unless you count Frank Turner's new face fuzz and cowboy hat (who's saw Young Guns 1 recently, eh?). Meantime, stage left Julia R takes her job as the anti-Hillary JJ72 to heart, swinging around her bass light Nightmare wielding his sword on 'Soul Calibur 2'. On paper it should not work, but somehow the combination of Million Dead's frantic indie rock and mesmerising lyrics unafraid of their own depth whips up the pit like a blender. The grinding buzz of 'Breaking the Back' lifts the kids off the floor as Frank stutters and shakes he way about the stage like he's had one too many cappuccinos. Million Dead have been the surprise hit of this year's alt scene; it's certainly a surprise that they're not higher up the bill.
That honour instead goes to The Haunted. I feel a certain amount of guilty pleasure in catching one of Sweden's top hardcore exports. Well, at least a certain amount of pleasure at the vibrations their bass causes sent through the Town Hall's steallar soundsystem at that volume, but I digress. What I know about The Haunted could be written on the back of a postage stamp with room to spare, but this much I do know. Thundering 'core, with juicy metal solos, and desire to deafen their audience into submission. It's too much for some people who take to the bar for this set, but those who stay are witnessing some prime entertainment. The Haunted could be something special; not least because they follow the classic great metal band hair formula (ie. all members of the band have long hair except the lead singer).
This is the last time that Funeral For A Friend will tour before the end of the year, and most likely the last time anyone in the North-East of England won't have to travel to catch them. Sadly, it's only now that they've found their feet. Back in January in Newcastle, Matt Davies' raucous hoarse voice prompted fears that his vocal chords would no longer be able to sustain the half-roar, half-scream he had been developing in the second half of the year. Tonight, it seemed in better form than ever, as he was joined by Kris Roberts for a powerful version of 'Your Revolution Is A Joke', letting rip with a voice that stuns the chatterers at the back into silence. Elsewhere, the contrast between the from-the-very-bowels-of-hell roar of drummer Ryan Richards and Matt's gorgeous Peaches'n'Scream combination finally seems to have reached a happy medium - the two no longer seeming to compete for the same space.
FFAF seem to be growing even as we watch, manipulating the crowd with ease from start to finish. And yet the hardest point seems to be believing that this is more than a walk in the part for them. The band knock out heavier hardcore anthems like recent downloadable single 'The Art Of American Football' and more melodic tracks like 'Moments Forever Faded' with equal precision and panache. And yet the band never look bored, or as if they just punched their timecards before they hit the stage. Over there, Darran has just joined Kris from a bit of Status Quo-like guitar action of stage right, while on the opposite side, avoiding Matt's weaving path, Gareth takes his bass for a trip over the monitors. Look at those photographers buzzing round the band like flies - none of them quite know who to watch. Hell, it's hard enough for the rest of the crowd to decide. Matt Davies may not be a scissor-kicking, flamboyant kind of a frontman, but that makes it all the harder trying to decide why everyone wants a piece of him. FFAF can grab your attention without the need to shove it in your face. That's the music's job.
Unfortunately it's not all perfect. The huge backing screen is no Tool video; though the opportunity to watch bandmembers seemingly smash skulls on camera does make for a quite surreal picture, especially for those who have managed to sneak the waccy baccy past those friendly security guards.
Then this is a biased review. I will admit that I am a huge Funeral fan, but, at the rate the band are growing, tonight, my tenth gig, may well be the last time I ever catch them on tour. But even if this becomes my last ever FFAF show, my God, it'll be worth it. Watching Matt onstage with yet another of his heroes, Jonah Matranga tonight, it's clear FFAF have reached in two years what some bands take a lifetime to achieve. The only obstacle in their path is the danger that this has happened so fast, they could end up jaded before their time. For the moment they stand on the crest of a wave that could carry them all the way.
Further links
Home of Meeeeelion Dead, as we like to call them round here
Official home of Jonah Matranga's solo project
Official site of Funeral For A Friend
Official site of the hardcore band